Human mobility has steadily shrunk in the Euro-Mediterranean region over the recent years. So has the ability for civil society organisations in the region to promote and protect the human rights of migrants and refugees. Since 2020, the use of forced returns and refoulements across international borders has continued to increase: almost 50,000 people were intercepted in the Central Mediterranean in 2022 and returned to Libya or Tunisia. And the European Union Pact on Migration and Asylum has only confirmed its perception of migration as a threat to its internal stability.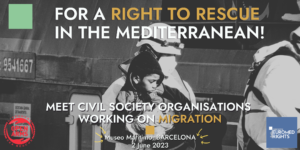 Migration and Asylum
Join us for a day full of interesting discussions and panels on the right to rescue in the Mediterranean!  
Read More »