Accountability, Justice and Space for Civil Society
The space available for civil society organisations working to promote, defend and protect human rights in the Euro-Mediterranean region has steadily declined over past three years, as has access to justice and accountability for citizens in the region.
In the Southern and Eastern Mediterranean, the Covid-19 pandemic continues to provide opportunities for authoritarian governments to accelerate the extension of state power at the expense of independent civil society, accountability, and justice. Nowhere in the region is justice served or accountability upheld, a situation worsened by the endemic corruption. The European Union, its member states and the Council of Europe have, with few exceptions, failed to counter these developments as divisions between the EU member states over the status and approach to human rights promotion and fulfilment continue to limit the EU's ability to take action in favour of civil society, justice and accountability. Read more on this political goal.
Key publications
Recent results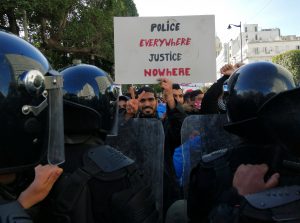 In 2021, the issue of shrinking spaces for civil society also continued to be mainstreamed across all programmes. EuroMed Rights and its members monitored and documented violations and restrictions on human rights in the whole region, as presented in the country-specific sections.
Concluding a process that started in 2020, a report on how government-organised NGOs (GoNGOs) spread alternative human rights narratives to support authoritarian governments was published in February 2021. The report focuses on some of the difficulties faced in Algeria, Egypt and Turkey, based on first-hand testimonies from independent activists as well as trade unionists, and is complemented by an analysis of the repressive legislative environment against civil society activism.