Osman İşçi, emblematic case among hundreds of human rights defenders in Turkey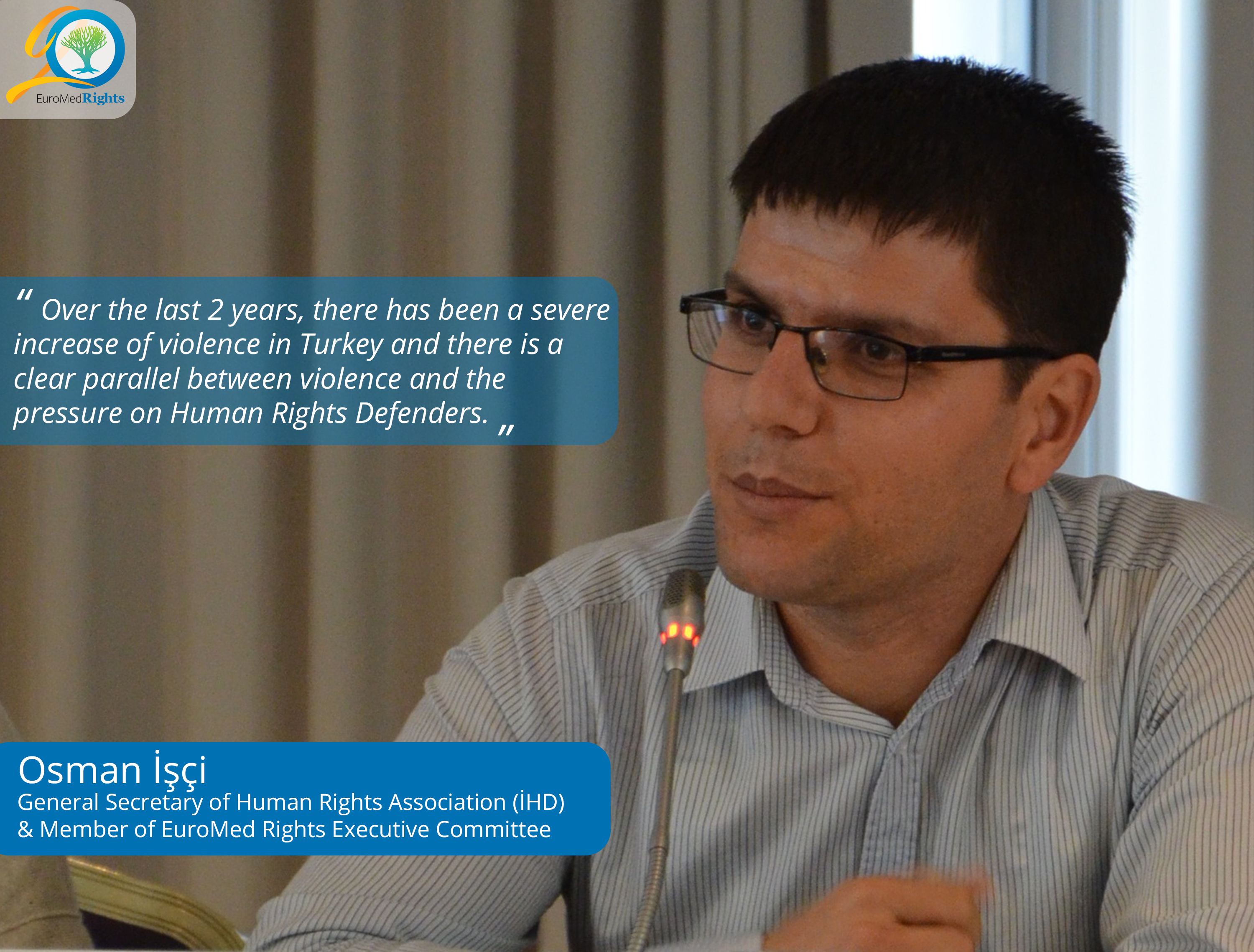 Today, 25 October 2017, the hearing of EuroMed Rights' Executive Committee member and General Secretary of the Human Rights Association in Turkey (IHD), Osman İşçi, was held before the 6th Heavy Penal Court in Ankara.
Osman İşçi, together with 71 trade union members, is being charged of "being a member of an illegal organisation". This case goes back to 2012 when the 72 human rights defenders were arrested by 'anti-terror' police forces. Osman İşçi then spent 10 months in pre-trial detention in 2012-2013. Harassed for years in relation to his relentless commitment to the promotion of human rights, Osman İşçi has been more recently dismissed from his position as associate professor and PhD researcher at the University of Ağri. He is accused of having signed the Peace Petition, "We will not be a party to this crime", along with another thousand academics, in January 2016, criticising the government security policy in the Kurdish regions and the imposition of permanent curfews on entire cities. We believe that his dismissal from the public service is sweeping and disproportionate, as it bears, on top of losing his job, the loss of his social rights, the prohibition to work for the public service again, and the cancellation of his passport.
Commenting on the trial, EuroMed Rights' President, Michel Tubiana, said:
"Osman İşçi is an emblematic case among hundreds of human rights defenders and peaceful opponents to authoritarianism in Turkey. The judicial harassment against our member is unacceptable. Moreover the repercussions are impacting his whole family, by depriving him of his income, social rights and right to freedom of movement. We are appalled by the drift of Turkish institutions further away from democracy and the rule of law, especially with the constitutional reform recently adopted. We call on Turkish authorities to respect their international obligations, and to uphold democracy, the rule of law and universal human rights principles."
We are deeply concerned by the deteriorating atmosphere in Turkey, where human rights are constantly violated. We ask Turkey to stop all measures of judicial and administrative harassment against human rights defenders and independent civil society. Thousands of human rights defenders are facing court, accused of membership with terrorist organisations. It is notably the case for the 11 human rights defenders arrested last July, while attending a workshop on digital security. Their first hearing is being held today in Istanbul at the Heavy Penal Court no 35. Among them, two of our members from Citizen Assembly, Ms. Nalan Erkem and Ms. Ozlem Dalkiran, but also Ms Idil Eser, Director of Amnesty International Turkey. We call on the EU, the Council of Europe and the United Nations to make it very clear that Turkey's position on human rights, democracy and pluralism needs to change immediately.
Osman İşçi's next hearing will be held on 31 January 2018.