Belgium-Egypt Football Match: Let's Defend Human Rights
As Belgium will play a football game against the Egypt national team on 6 June 2018, EuroMed Rights will conduct an action in Brussels in order to denounce the harassment of human rights defenders in the country this Wednesday 6 June.
EuroMed Rights has selected 11 human rights defenders* from its campaign Human Rights Behind Bars in Egypt, as part of the  'Egypt football team'; those human rights defenders cannot travel to attend neither the match of the day, nor the World Cup, because they are banned from travelling or currently in jail.
Indeed, the human rights situation in Egypt is at an all-time low. Human rights defenders as well as journalists, bloggers and lawyers who do not adhere to the official line of the regime are being silenced for their work. Death sentences are being handed after unfair trials, torture is omnipresent in detention centres, with an estimated 60,000 detainees, including some children, in formal and informal detention centres.
All opposition candidates were silenced ahead of the presidential elections of March, and citizens had so little confidence in the vote that it is reported that more than one million of them have written the name of Egyptian footballer Mohamed Salah instead of one of the candidates on their voting ballot.
BACKGROUND INFORMATION
EuroMed Rights' Human Rights Behind Bars in Egypt campaign gathers support for Egyptian activists targeted, threatened and prosecuted in political trials and sentenced to long prison sentences due to their prominent contribution in initiating change. The campaign website is regularly updated with new developments regarding the activists and sends out a fortnightly newsletter on recent attacks against human rights defenders and activists. You can subscribe to the campaign newsletter here.
EuroMed Rights' Egypt football team
Alaa Abdel Fattah – detained
Esraa Abdel Fattah – – travel ban
Mahmoud Abu Zeid (Shawkan) – detained
Malek Adly – travel ban
Ismail Al-Iskandarani – detained
Gamal Eid – travel ban
Negad El Borai – travel ban
Mozn Hassan – travel ban
Aida Seif Al Dawla – travel ban
Azza Soliman – travel ban
Mohammed Zaree – travel ban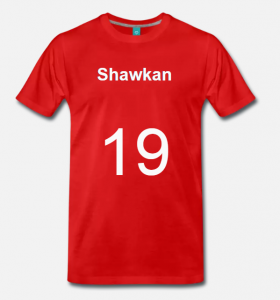 See pictures of our symbolic actions in Brussels on Tuesday 5 and Wednesday 6 June