Human Rights Behind Bars in Egypt
No more!
Latest Updates
Cairo Court of Cassation upholds the sentence for blogger Alaa Abdel Fattah

The Court of Cassation delivered a final ruling confirming Alaa Abdel Fattah's five-year sentence for protesting in front of the Shura Council. However, the verdict amended the rigorous conditions of his imprisonment: he will have to complete his term in a general population prison rather than a high-security prison. This will be followed by another five years of strict probation and a fine.

Click here for more information

Nubian activist dies in detention

Indigenous rights activist Gamal Sorour, who had gone on hunger strike following the extension of his pre-trial detention, died while in custody in Aswan following a diabetic coma. Sorour was arrested, together with other Nubian activists, during a peaceful march in September demanding the right of the Nubian people to return to their ancestral land.

Lawyer Yasser Abdel Gawad released without bail

Yasser Abdel Gawad, the director of the Arab Office for Law, was summoned for investigation in case no 173/2011, known as the 'foreign funding case' against civil society organisations. He was interrogated on 1 November and released without bail.

Check out our 5 last newsletters
Video
What is the Foreign Funding Case?
Find out more about the Foreign Funding Case (no 173) targeting Human Rights Defenders in Egypt. #HarassNoMore #FreeHRDs
Testimonies
Is it a crime to defend human rights in Egypt?
My work on human rights was the reason why I travelled outside of Egypt on many occasions. I always saw myself as a lucky person as this also brought the opportunity to discover different cultures and meet colleagues from other countries, sharing common aspirations in the defence of economic and social rights.
But every time I travelled, I knew where, when and how I would return. Until my last departure from Egypt, I had always held a round-trip ticket.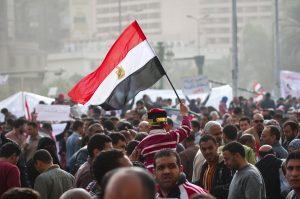 Click here to read full testimony
"It is true that I do not feel secure there but I do miss my homeland wherever I am."
About this Campaign
This campaign is a joint initiative of EuroMed Rights and the Cairo Institute for Human Rights Studies (CIHRS) to gather public support for
the release of all Egyptian activists currently held in prison
the end of growing harassment from the Egyptian authorities
Egyptian activists are striving for human rights, democracy and other fundamental freedoms, yet have been targeted since 2011 for their role in defending and promoting civil, political and economic rights. Due to their prominent contribution in initiating change, many Egyptian activists are being targeted, threatened, prosecuted in political trials and sentenced to long prison terms.
In Egyptian President Sisi's own words, "(…) there are many innocent people inside prisons, soon many of them will be released according to the available permissions" (declared on television on 22 February 2015)
This systematic crackdown on dissent must stop. All detained activists must be freed and this permanent harassment ended!
Take action and show your support and solidarity.
Every voice counts! Help us in getting as many as possible!
"Putting peaceful activists behind bars may give the authorities a feeling of control, but it's illusory – and it's certainly not the road to building a democratic political system."
Take Action
Imprisoned and harassed activists need your help and your voice!
Take action now and show your support by sharing this campaign.
Spread the word and share this campaign via Twitter, Facebook, emails, etc. You can use our Tweet template below
Support @EMHRN & take action to #HarassNoMore #HumanRights activists in #Egypt http://ow.ly/VjUge (add your picture to the tweet)
Receive updates by signing up for our bi-monthly newsletter.
Voices count! Help us in getting as many as possible!
Cartoons Gallery
Torture in detention and human rights are a laughing matter for police officers