Human Rights Behind Bars in Egypt
No more!
Latest Updates
Trans activist Malak al-Kashif released

Malak al-Kashif has been freed following a release order from the state security prosecution on 15 July. She was detained in state security case 1739/2018, accused of engaging with a terrorist group to achieve its goals and using a Facebook account to commit crimes. Malak was arrested on 6 March in connection with calls for anti-government protests after the train crash in Cairo Ramses station on 27 February.

Detention of labour rights lawyer Haitham Mohamedeen renewed

State security renewed the detention of labour rights lawyer Haitham Mohamedeen for 15 days, according [Ar] to the Egyptian Commission for Rights and Freedoms. He is accused of cooperating with a terrorist group.

Detention renewal for former parliamentarian Zyad al-Elaimy and journalists

The state security prosecution renewed the detention of former parliamentarian and lawyer Zyad el-Elaimy and journalists Hossam Moanis and Hisham Fouad for 15 days pending investigation into state security case 930/2019. They face charges of engaging with a terrorist group to achieve its goals and spreading false news and statements. This decision came after the prosecution went to Tora Prison, where the defendants are being detained. On 4 July, in the same case, Cairo criminal court decided to adjourn the session to consider a request submitted by the public prosecutor to seize the funds of the defendants until a hearing on 1 August.

Check out our 5 last newsletters
Testimonies
Egypt: Seven Years after the Revolution, Zero Tolerance for Criticism
The following interview was made with Human Rights activist Mohammed on the current situation in Egypt.
The Egyptian Revolution in 2011 was the highest point of the Arab Spring. It could have been the opportunity for Egypt to move forward on Human Rights but unfortunately it looks like the result was exactly the opposite. What is your assessment of the situation on the ground?
You can't expect any improvement of the situation of human rights when you are governed by military rule.
It's a dark moment for human rights in Egypt. The government has zero tolerance for criticism, with over 460 media outlets and organisations currently blocked; tens of thousands are imprisoned because of their political activism; the judiciary is extremely politicized and instrumental; and the highest number of executions in Egypt's history are currently being carried out. Religious and gender non-conformists are also being targeted and arrested. The expenditure on arming is increasing, while the country is drowning in debt and economic crisis.
The complicity of Western governments in this is shocking: they are not only welcoming the Egyptian president to their meetings, while turning a blind eye to these flagrant violations, but they also keep providing the Egyptian State with arms and spying technologies.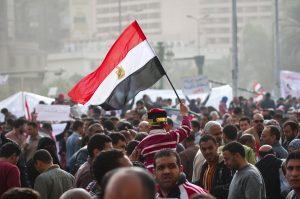 Click here to read the full interview
Video
The Referendum on Constitutional Amendments
Egyptian actor Amr Waked & researcher Claire Talon express their concerns regarding these amendments and their impact for Egypt's future.
About this Page
This information page is an initiative by EuroMed Rights to gather public support for
the release of all Egyptian activists currently held in prison
the end of growing harassment from the Egyptian authorities
Egyptian activists are striving for human rights, democracy and other fundamental freedoms, yet have been targeted since 2011 for their role in defending and promoting civil, political and economic rights. Due to their prominent contribution in initiating change, many Egyptian activists are being targeted, threatened, prosecuted in political trials and sentenced to long prison terms.
In Egyptian President Sisi's own words, "(…) there are many innocent people inside prisons, soon many of them will be released according to the available permissions" (declared on television on 22 February 2015)
This systematic crackdown on dissent must stop. All detained activists must be freed and this permanent harassment ended!
Take action and show your support and solidarity.
Every voice counts! Help us in getting as many as possible!
"Putting peaceful activists behind bars may give the authorities a feeling of control, but it's illusory – and it's certainly not the road to building a democratic political system."