ALERT / Algeria : Mass arrests and detention of migrants again in Algeria
Read in: French
EuroMed Rights and its members strongly condemn the mass arrests conducted in Algiers and its suburb. Dozens of migrants from Sub-Saharan countries have been arrested since Saturday 10 February, including people staying regularly in Algeria.
Journalists have reported on arbitrary and mass arrests by security forces dressed as civilians, especially on Sidi Abdellah construction site (Algiers) where an important urban project is under construction to address accommodation needs.
EuroMed Rights' members in Algeria, who are in direct contact with the victims of these events, have confirmed that the arrests were conducted arbitrarily, with no regard for the procedures and no possibility for the people to take some of their belongings with them. One person was even arrested despite being in a regular situation, with a valid passport stamped with a valid visa and holding a returns flight ticket. The person was eventually released.
After being detained for 48h in the Zeralda camp (western suburbs of Algiers), victims of these mass arrests have been brought by bus to a detention site located in Tamanrasset on 13 February afternoon.
They have then been forcibly brought to the Niger border on 14 February; we are unable to establish with certainty whether they have been left stranded on the Algerian side or the border, or whether they have been deported to Niger, in a similar fashion to previous arrests conducted over the past few months (see our latest communications on this issue). Abandoned at the border depending on their nationality (Niger refuses that non-Nigerian nationals are deported by Algeria), left with no resources in the desert, these people are vulnerable to all kind of abuse, of human rights violations and are at risk for their life.
EuroMed Rights regrets the securitarian drift of the Algerian migration policy. Over the past months, thousands of people from Sub-Saharan African countries have been arbitrarily arrested in Algiers, detained in the same Zeralda centre, forcibly brought collectively to Tamanrasset where they have been deprived of liberty. These successive steps unfolded with no respect for any procedural safeguard and in breach of the fundamental rights of the persons targeted.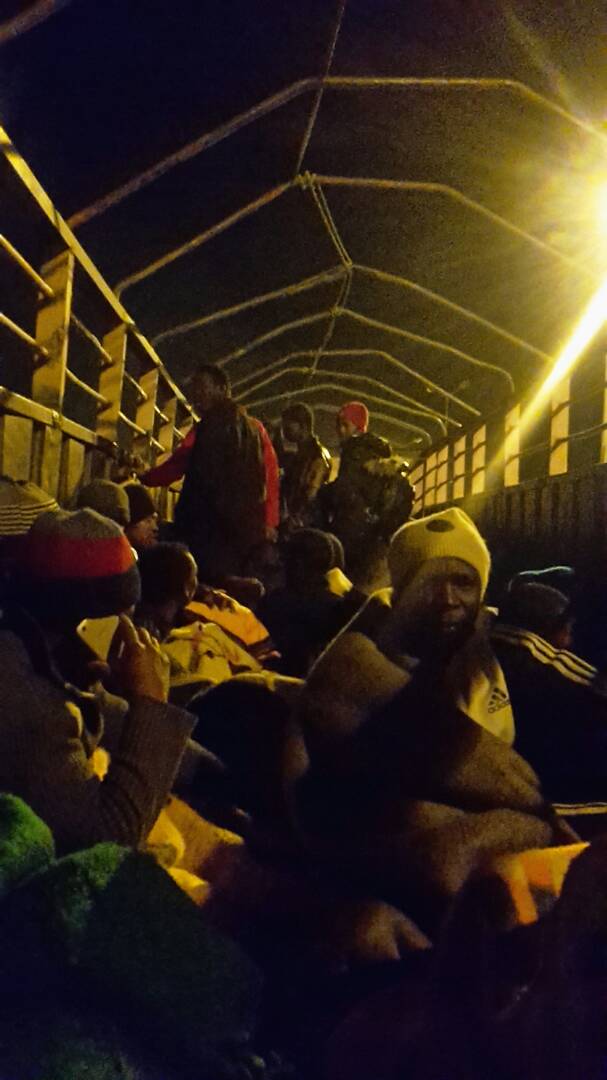 Tamanrasset detention centre, 13 February 2018.
Transmitted by EuroMed Rights' member organisations present on the ground.