Awad, a fisherman who can hardly fish
The devastation of fishermen's livelihood in Gaza is a blow to human security and dignity
On 5 August this year, Israeli naval forces opened fired at Awad Bakr, 21, a fisherman who was working at about five nautical miles off the Gaza Strip coast. He was detained by the Israeli forces until that night. The boat and fishing equipment were not given back, as reported by human rights group Al Mezan. Unfortunately, this is far from being an isolated case. Like Awad, fishermen in Gaza are crippled by Israel's restrictions on access to their maritime resources. Continuous harassment, confiscation of fishing tools and even shooting and detention is the daily treatment that the Israeli Navy reserves for Gaza fishermen.
Although fishing is a long-established sector in the Strip, the restrictions put in place by the Israeli forces have brought the community into serious economic distress. It is estimated that 95% of the fishermen and their families live under the poverty line. The restricted area in which fishermen in Gaza try to earn their living is also a dangerous one.
Israel's decision to impose a blockade on Gaza in 2007 narrowed the fishing area to six nautical miles from Gaza's coast, down from 20 nautical miles per the Oslo Accords. Since then, the limit has fluctuated, with the sea fully closed off at points, or as narrow as three nautical miles for weeks at a time. More alarming is the frequent use of open fire to control fishermen, even within the permitted fishing areas. Since the start of 2019, Israeli forces have targeted more than 222 fishermen, in most cases with live fire. 374 fishermen were also arrested at sea under humiliating conditions, only to be released back into Gaza within hours of their interrogation – overriding any security justification for such practices.
Israel's decision to impose a blockade on Gaza in 2007 narrowed the fishing area to six nautical miles from Gaza's coast, down from 20 nautical miles per the Oslo Accords.
International bodies such as the United Nations are clear about what is behind these policies and practices: dangerous work conditions, unequal access to justice and lack of political power are deprivations that prevent fishermen like Awad from enjoying their rights and earning a living free of fear and hardship. That is why, on the International Day for the Eradication of Poverty, it is important to point to the root causes of this problem. The illegal Israeli blockade and closure of Gaza causes tremendous strife for civilians and has pushed Gaza's residents into a human-made humanitarian catastrophe. Only the complete dismantling of the blockade and closure framework can change this, as the World Bank recognised in 2018.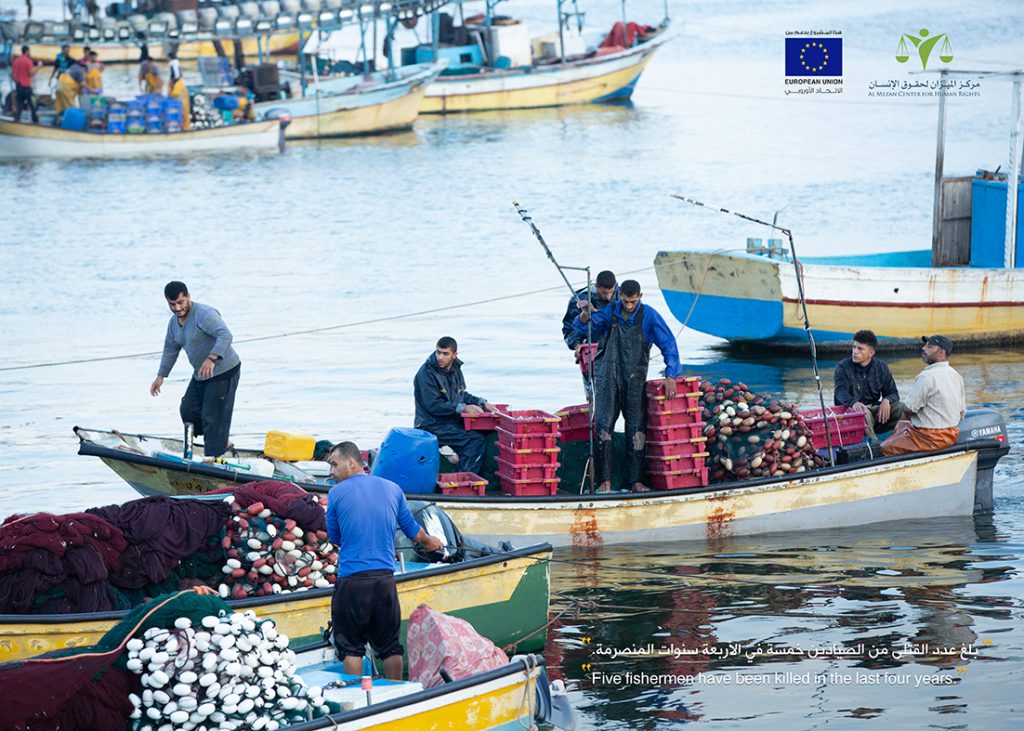 Those in power must call on Israel to end the closure and blockade. The European Union and any other actors that praise themselves for their commitment to eradicating poverty and preserving human dignity should step up their efforts to protect Palestinian civilians and to make sure that Israel ceases to engage in forms of unlawful collective punishment. Awad and his fellow fishermen deserve to access their rights to work and to food, to be fully protected as a vulnerable population, and to live in security and dignity. Israel's treatment of fishermen over the past decade has been a key driver of humanitarian aid in an area that chronically lacks food security. In order for a meaningful change to be possible, it is essential that the root causes of hardship, including the treatment of fishermen, are tackled.
Issam Younis – Director General at Al Mezan
Diaries of Palestinian fisherman