Shrinking Space for Civil Society
EuroMed Rights monitors and advocates against the difficulties faced by civil society organisations regarding the following key rights: freedoms of expression, association, movement, political participation including trade unionists' rights, as well as the right to assemble peacefully both online and offline.
EuroMed Rights' most recent publications are available on the right-hand side of this page.
Key publications
Recent results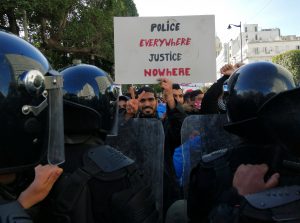 In recent years, many governments across the Euro-Mediterranean region have tended to adopt ever more repressive measures and policies to curtail civil society activism and muzzle critical voices. In 2020, the issue of shrinking spaces for civil society continued to be mainstreamed across all programmes. Yet, with the COVID-19 pandemic that has exacerbated this already existing widespread trend, EuroMed Rights and its members decided to increase monitoring and documentation of the violations and restrictions on human rights in the whole region to capture the impact of specific COVID-19 related regulations. This work was widely publicised through the network's monthly dedicated newsletter.
On another topic, EuroMed Rights started collecting information on how government-organised NGOs (GoNGOs) spread alternative human rights narratives to support authoritarian governments. GoNGOs push organisations working on women rights and trade unionists out of the political space, and through their actions, complete the arsenal of restrictive laws and abusive practices put in place by governments to shrink the space available for civil society to organise and defend human rights. This work led to the release, early 2021, of a report that focuses on the many difficulties faced by independent activists and trade unionists in Algeria, Egypt and Turkey. Based on first-hand testimonies, it also provides an analysis of the repressive legislative environment against civil society activism.