About
EuroMed Rights monitors and advocates against the difficulties faced by civil society organisations regarding the following key rights: freedoms of expression, association, movement, political participation including trade unionists' rights, as well as the right to assemble peacefully both online and offline.
EuroMed Rights' most recent publications are available on the right-hand side of this page.
Key publications
Recent results
Although the issue of shrinking space for civil society has previously been addressed at the programme and activity level, the first steps towards mainstreaming this approach across all programmes were taken in 2019. Gender specific aspects of the shrinking space have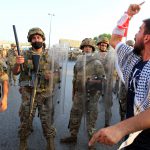 already been included in the "Women's Rights and Gender Justice" programme, dealing particularly with attacks on women human rights defenders' freedom of association, assembly, expression and movement.
In 2019 EuroMed Rights and the Human Rights Institute of Catalonia produced a regional report mapping trends in the shrinking space for civil society across the region. Coordination between regional and national programmes has led to increased synergies in efforts to counter this shrinking space trend across all EuroMed Rights North Africa programmes.