About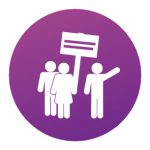 In recent years, many governments across the Euro-Mediterranean region have tended to adopt ever more repressive measures and policies to curtail civil society activism and muzzle critical voices. This phenomenon has been labeled by international human rights institutions as 'shrinking (or closing) space for civil society', indicating a downward movement where human rights defenders, journalists, trade unionists, lawyers, intellectuals and any dissenting voice face arbitrary restrictions, physical threats, judicial harassment, arrest and sometimes death.
These multi-faceted attacks reduce the capacity of civil society to play its fundamental democratic role, as watchdog and as leader of alternatives, and constitute a violation of the States' obligation to promote and protect an enabling environment for civil society, in particular freedom of expression, assembly and association, free access and dissemination of information and the participation in public affairs.
Since its creation in 1997, EuroMed Rights has paid particular attention to freedom of association and of assembly in the Euro-Mediterranean region.
EuroMed Rights has closely monitored the situation in the different countries, documenting violations, supporting the work of its member organisations and formulating recommendations to governments and institutions in order to ensure the exercise of these freedoms.
The wave of protests, in the wake of the "Arab uprisings", as well as the massive anti-austerity demonstrations that shook Europe since 2008, demonstrated the centrality of freedom of assembly and association in democratic societies in general, and democratic transitions in particular.
Although these uprisings have often been triggered by the use of new communication technologies and "social media", they played out in the streets where the massive presence of men and women in public spaces has caused governments to fall, to change course, or adopt even more drastic and repressive measures in order to crush protest and muzzle criticism.
The rights to freedom of peaceful assembly and association are enshrined in international and regional human rights treaties, rights whose exercise the authorities must protect and facilitate. They are not only a key element in the struggle against oppressive regimes – often at a high price in terms of human lives – but are also an essential element for the exercise of democracy, which cannot be reduced to voting only. Democracy is inseparable from freedom of assembly and association and it cannot be effective if the collective expression of dissenting and minority views is suppressed.
Read all our reports on Shrinking Spaces for Civil Society and Freedom of Association