About
EuroMed Rights aims to closely monitor policy developments impacting the rights of migrants and refugees in the Euro-Mediterranean region. The organisation focuses particularly on the EU's role in promoting these rights or, conversely, in jeopardising them. The Network strives to ensure that the European Union and its Member State's relations with partner countries in the South/East Mediterranean region are favourable to the rights of migrants and refugees including with respect to access to mobility for all, both in law and in practice.
EuroMed Rights' Migration and Asylum programme focuses on the following priority themes :
Promoting an open movement area across the Mediterranean
Ensuring the right to seek asylum and international protection by advocating for safe passages to the EU and to countries in the South and South East Mediterranean, fair procedures and rights guarantees (including economic and social rights for refugees);
Calling for safe and fair labour migration policies, the liberalisation of visa policies (including for work, studies, family reunion) and the end of short-term visas;
Pushing for a human rights-based approach to migration and asylum by ensuring accountability of human rights violations towards migrants and refugees and supporting migrant and refugee voices in defending their rights;
Addressing the negative human-rights impact of the externalisation of migration, asylum and border management policies by the EU, its Members States and countries in the South and South East Mediterranean;
Combatting the shrinking for civil society space and the criminalisation of organisations and people supporting migrants and refugees.
Among the most recent activities, it is worth highlighting the work done on monitoring the impact of the COVID-19 pandemic on migrants' and refugees' rights. This included looking at access to health, regularisation, socio-economic rights and the situation in hotspots and detention centres. EuroMed Rights' Migration and Asylum Programme also raised concerns on the continued violent push backs at borders across the region and, in particular, in the Central Mediterranean. It also spotted a light on the deteriorating conditions of migrants and refugees in Cyprus.
The Migration and Asylum Programme is closely monitoring the upcoming EU budget on migration in the framework of the negotiations on the Multiannual Financial Framework (MFF) and its impact on human rights and migrants' and refugees' rights across the region.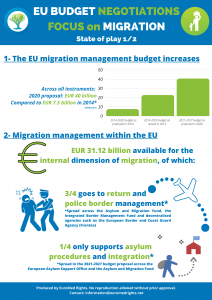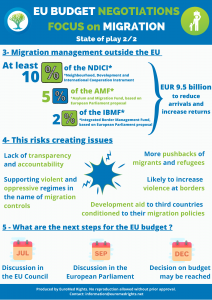 ---
Executive Committee political referent on Migration & Asylum: Radostina Pavlova
Executive Committee resource person on Migration & Asylum: Catherine Teule
Programme Officer: Sara Prestianni
Programme Assistant: Elena Bizzi
LATEST EVENTS
February 2020: Sub-regional networking meeting focusing on monitoring returns. From a humanitarian to a human-rights approach to refugee support in the Mashreq (Lebanon, Jordan, Turkey and Syria)
October 2019: Migration & Asylum Working Group meeting in Rabat, Morocco, together with a public seminar on "Promoting the influence of civil society in the development and implementation of European cooperation policies towards effective promotion and protection the rights of migrants and refugees".
May 2019: Migration & Asylum Working Group meeting in Lecce, Italy, in the framework of the SABIR Festival, organised by ARCI (EuroMed Rights' member). Public seminar on the implementation of the EU's policies on "returns".
December 2018: sub-regional networking meeting of local civil society organisations working on the rights of refugees in Jordan, Lebanon and Turkey, Beirut (Lebanon)
November 2018: Migration & Asylum Working Group meeting in Nicosia (Cyprus) – Public session on ''Access rights for migrants and refugees in Cyprus: from action on the ground to policy change'', co-organised with KISA (EuroMed Rights member)