Migration and Asylum
EuroMed Rights' programme on Migration and Asylum aims to build an active network and reinforce the capacities of civil society organisations (CSOs) working on migration- and asylum-related issues across the Euro-Mediterranean region. This network monitors and documents human rights violations in order to influence policymakers and inform the public debate around migration.
EuroMed Rights' most recent publications and the list of members related to this programme are available in the right column.
Key publications
Recent results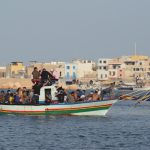 The situation in the Mediterranean region demonstrates the effects of the EU's externalisation policy and its will to limit access to the EU territory. In 2020, EuroMed Rights produced an in-depth analysis of the contents and concerns related to the EU Pact on Migration and Asylum as well as a simulation of the effects of this Pact on EU border countries.
The establishment of long-term relations between CSOs helps create new partnerships that lead to concrete results on the ground.
Following the first meetings held in Turkey in December 2018, a Mashreq network composed of around twenty organisations was set up. This network intervenes more directly in the region, notably on topics related to the treatment and rights of refugees from Syria. The Maghreb sub-regional seminar organised by EuroMed Rights in October 2019 provided a unique chance for around 60 representatives of local CSOs from Algeria, Morocco and Tunisia and from the wider Euro-Mediterranean region to increase exchanges, cooperation and synergies. Connections established between Algerian, Tunisian and Moroccan organisations enabled them to better document and denounce violations of migrant rights in the region, investigating particularly the situation of migrants held in Tunisian detention centres.
Working group
The Migration and Asylum Working Group brings together over 20 experts from 17 countries in the Euro-Mediterranean region. It is the resource hub for implementing as well as providing strategic, technical and professional input to the programme. By connecting civil society organisations across the Mediterranean, the Working Group contributes to amplify their voices with decision-makers and media.