About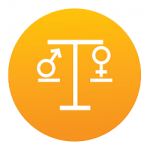 Despite the progress accomplished by international bodies in defending and promoting women's fundamental rights, these rights are still not respected all over the world. Within the Euro-Mediterranean region, the environment – social, political, legal, administrative, economic and cultural – is characterised by deeply entrenched inequality between men and women.
One of the worst forms of discrimination is violence against women (VaW) that continues at an alarming rate across the region, facilitated by insufficient legislation and impunity for perpetrators. Whilst the #MeToo campaign represented a positive step forward in highlighting the issue of VaW, backlash movements against women's rights rooted in populist and conservative movements, often using a traditionalist and religious discourse, have increasingly appeared on both sides of the Mediterranean. In turn, these movements have exacerbated the shrinking space for civil society currently experienced across the region by introducing a gender-based dimension, with women's rights defenders facing significant risks and threats.
Read EuroMed Rights recommendations to EU institutions on GAP II's evaluation and GAP III's preparation.