Women's rights and gender justice
EuroMed Rights works with the members of the Women's Rights and Gender Justice Working Group to enhance, harmonise and sustain the implementation of a legal environment combatting violence against women. EuroMed Rights also promotes a counter-narrative to rising anti-feminist and anti-gender discourses.
EuroMed Rights' most recent publications and the list of members related to this programme are available in the column on the right-hand side of this page.
Key publications
Recent results
The multiplication of discourses inimical to women's rights and gender equality has led the Women's Rights and Gender Justice Working Group to expand its network of like-minded organisations across the Euro-Mediterranean region to better coordinate actions.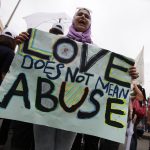 For instance, EuroMed Rights established a working relationship with the Heinrich Böll Foundation, resulting in a conference on "Countering backlashes against equality" in September 2019. Future collaborations with the EuroMed Feminist Initiative and the Centre for Feminist Foreign Policy are also being discussed in order to reinforce EuroMed Rights' status as an influential actor on women's rights and gender justice in the region.
EuroMed Rights collaborated with Kvinna till Kvinna, a Swedish organisation promoting women's rights in conflict-affected countries, to set up the "16 Days of Activism #WeSay" social media campaign in November-December 2019. This strategy was repeated in November-December 2020 with a timely and important campaign focusing on the rising impact of cyber-violence against women.
UN Women also invited EuroMed Rights to participate in a conference on the feminist movement in the Euro-Mediterranean region. The presence of some conservative participants led to an intense debate featuring a broad range of views, thereby confirming growing anti-feminist discourse in the region.
Working group
Since 2004, EuroMed Rights has brought together women's rights organisations from the North and South of the Mediterranean on an equal footing. The group's work is based on four axes: networking and capacity building; monitoring and documentation; advocacy; and crucially solidarity.