[Webinar] Online gender-based violence and shared strategies of resistance
Read in: French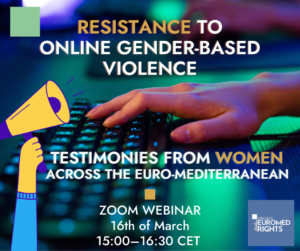 On the occasion of the parallel NGO forum of the United Nations's Women's Commission on the Status of Women' (CSW67), EuroMed Rights is pleased to invite you to the webinar Online gender-based violence and shared strategies of resistance: Testimonies from women across the EU-MENA region on March 16 between 15:00-16:30 CET.
Interpretation in Arabic, English and French will be provided. An on-screen graphic recording will summarise the discussion in real-time.
This discussion will highlight and analyse trends in online gender-based violence in the MENA-EU region. It will be supported by expert research in both regions and validated by testimonies from women human rights defenders, activists and journalists. Speakers will include:
For the presentation of research in the Euro-Mediterreanan region
Dr. Eleonora Esposito, Seconded National Expert and Project Manager of "Cyber violence against women and girls in the EU 27" at the European Institute for Gender Equality (EIGE), and Researcher at the Institute of Culture and Society (ICS) of the University of Navarra, presenting the findings of EIGE's 2022 report "Combatting Cyber Violence Against Women and Girls".
Laura Clough, Thematic Support officer at EuroMed Rights, presenting EuroMed Rights' report "Spaces of Violence and Resistance: Women's Rights in the Digital World" on online gender-based violence in countries of the MENA
region
For testimonies of online Gender-based Violence and strategies of resistance
Laia Serra Perelló (Spain), Criminal lawyer and expert in gender equality, gender-based violence, human rights and discrimination, with special focus on digital violence. Co-drafter of the reform of the Catalan law on gender-based violence and co-investigator of the European project on digital gender-based violence 2020-2022.
Karima Nadir (Morocco), woman human rights defender and founder of the "Collective 490" feminist movement.
Sama Aweidah (Palestine), feminist leader, human rights defender and head of the Women's Studies Centre.
Emma Portelli Bonnici (Malta), member of Lawyers for Choice and activist.
Introduced and moderated by
Monia Ben Jemia, Professor of law at the University of Carthage, former chair of the Tunisian Association of Democratic Women, and active feminist member of EuroMed Rights' Executive Committee
Raquel Reyes i Raventos, Thematic Women's Rights and Gender Justice Programme Coordinator at EuroMed Rights, and engaged activist within the Belgian feminist milieu