The never-ending March of Return
Today, approximately 26 million people are refugees worldwide. Of those 26 million, 5,5 million are Palestinians. And of those, 1,4 million live in the overcrowded and sealed Gaza Strip.
In short, around 70% of the population in Gaza are refugees, making any conversation about the situation in the enclave more of a conversation about the lives of Palestinian refugees. According to the United Nations Relief and Works Agency for Palestine Refugees in the Near East (UNRWA) – mandated to "provide assistance and protection to some 5.4 million Palestine refugees" – refugees in Gaza are overwhelmingly dependent on international assistance for survival.
Since 2007, the consequences of the blockade on land, air and sea, combined to the different belligerent actions undertaken by Israel against Gazans, have devastated the Strip. People in Gaza try to survive within a malfunctioning economy plagued with more than 40% unemployment and amid mostly destroyed infrastructure. Psychosocial issues already affect many in the population. And yet, the situation keeps worsening: while in 2000, only 80.000 refugees in Gaza needed UNRWA's food aid; today, this figure has increased to almost a million.
In such a situation, it is no surprise that, on 30 March 2018, Gazans decided to launch a world call to put an end to this man-made catastrophe. By starting the Great March of Return (GMR), Gazan refugees demanded first and foremost to have their rights protected after years of collective punishment imposed by Israeli authorities. In doing so, they urged the world to address the painful and unresolved question of their displacement, a right recognised in the UN General Assembly resolutions 194 (adopted in 1948, following the Nakba) and 3236 (adopted in 1967, following the Six-Day War). For almost two years, Israeli Defense Forces met the protesters with unlawful lethal force, condoned by the Israeli Supreme Court in May 2018.
Maryam Farid, 16 at the time of the attack on 30 March 2018, resembles that of many others who took part in the demonstrations that day
After the Friday prayer ended and we had our lunch, me, my sister and my friend advanced among the youth gathered close the separation fence (…) I was standing about 40 meters from the eastern fence, as I carried the flag and headed toward (…) [I] fell on the ground, and I felt pain in my right leg (…). After receiving first aid by doctors, I was taken to Abu Yousef Al-Najjar Hospital, where it was found that I had been shot" (Al Mezan Center for Human Rights, 2018)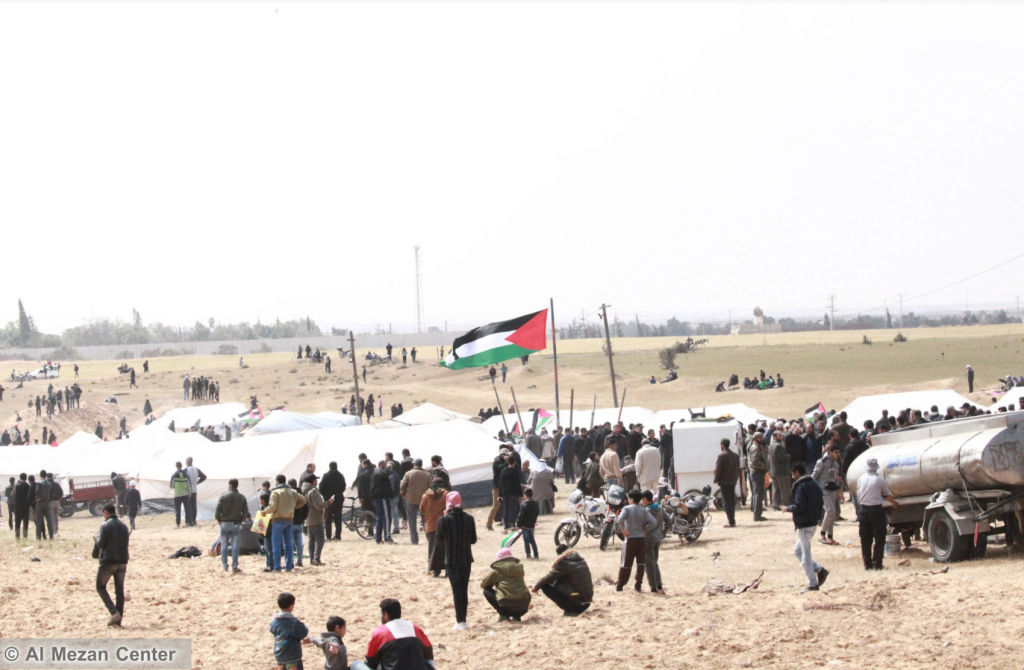 The OHCHR annual report of the on accountability and justice for violations in the OPT unravels the way impunity for such violations is fed. According to the UN "the report says that 19 months after the start of the Great March of Return, the Israeli military system had delivered only one sentence in relation to 'possible unlawful acts' by Israeli security forces."
The consequences for those injured in the demonstrations are amplified by the rampant poverty and unemployment. The story of Adil Abou Shayra, a Gazan refugee of 59 years old, is particularly telling. According to Al Mezan, after being shot in his left leg during his participation in the Great March of Return, medical personnel could not save his limb, resulting in amputation. Adil tried to get by and find a job in the retail and restauration sectors, only to be rebuffed in numerous occasions because of his physical condition. Adil still awaits the financial aid requested to the Ministry of Social Affairs.
More than two years after the beginning of these protests, little to nothing has changed. Worse even, the lives of Gazans, most of whom refugees, are today more difficult. According to Al Mezan, as of 29 February 2020, 217 people lost their lives during the Great March of Return, and up to 19,234 people were injured. Of the injured, 9,510 were shot with live ammunition including 2,125 children and 190 women.
On a daily basis, Gazan refugees are confronted to many layers of oppression and injustice whose nature is in most cases political and manufactured by Israeli policy i.e. a policy of occupation, closure and collective punishment of Gaza and Gazans. Human rights organisations keep fighting for their rights. The recent "lifttheclosure" campaign led by Al-Haq, Al Mezan, the Palestinian Centre for Human Rights (PCHR) and Medical Aid for Palestinians (MAP) has a simple message: the only way to put an end to the human rights violations against Gaza's population, including its 70% of refugees, is by addressing their roots causes by lifting the closure immediately.
International actors, such as the EU, have allocated important funds to reverse the socio-economic situation in Gaza. Time and again, this has proven futile in fulfilling the basic rights of Gazans.
This campaign comes a few weeks before Israeli plans to start legally annexing parts of the West Bank, in continuation of its overall policy of fragmentation of Palestinians. Annexation would only further this. In the meantime, the population of Gaza, a majority of whom are refugees, await for a just solution in a crumbling, man-made catastrophic environment that keeps deteriorating.