In Gaza, COVID-19 is a cherry on top of an already very bad cake
Since August 2020, the spread of the Covid-19 pandemic beyond quarantine centres and into the community in Gaza has put local authorities and NGOs alike on maximum alert response. Mahmoud Shalabi, a senior Emergency and Medical Training Manager for UK charity Medical Aid for Palestinians (MAP), warns about the current situation and the dim prospects for Gaza. The 13-year-long Israeli-imposed closure and blockade, which amounts to the collective punishment of a population of two million people living in one of the most densely-populated and impoverished areas of the world, poses enormous problems for containing and responding to Covid-19.
EuroMed Rights talked to Mahmoud to have his expert opinion on the current situation.
Euromed Rights: Until 24 August, the authorities in Gaza in collaboration with other stakeholders managed to contain the spread of Covid-19 among its population. With around 1,900 active cases, what is the current situation in Gaza?
Mahmoud Shalabi: Unfortunately, Covid-19 is the cherry on top of a very bad cake. For the past 13 years, we have been living under a blockade described by the United Nations as an illegal closure. It has affected all aspects of life. If we think of the health system as a human body, the Israeli blockade has caused a chronic disease that gets worse year by year. The closure and its economic and political consequences have left Gaza's health system on the constant brink of collapse.
Could you detail the main health consequences of the blockade for people in Gaza?
One way to look at it is to assess the situation of essential drugs and disposables such as masks or personal protective equipment (PPE). The Ministry of Health in Gaza maintains a list of items that it deems necessary to maintain services. These are the kind of medicines and materials needed by health workers to practice simple surgeries, run dialyses for kidney patients or provide cancer treatment. The cost of these medicines and disposables is around $40 million a year. However, only 48% of the drugs and 31% of disposables are available to medics here at any given time. This is due to the blockade's stifling effect on our economy, increasing functional and political separation between Gaza and the West Bank, and Israel's direct restrictions on the import of certain items. The blockade also severely impedes patients' access to healthcare outside of Gaza, sometimes with fatal consequences. The blockade' suffocation of economic activity has caused widespread poverty and poor health.
However, only 48% of the drugs and 31% of disposables are available to medics here at any given time.
The lack of items such as masks or PPE has hit the headlines all over the world since the pandemic began. It just seems that the blockade would make any procurement even more difficult. In the current situation, what are the specific needs and extra problems you have encountered in procuring life-saving material?
Indeed, we face massive constraints in procuring all kinds of drugs and disposables in Gaza. After years of man-made de-development due to the blockade and to war, Gaza relies totally on the outside world for almost everything one could think of. Yet, in the time of Covid-19 there has been an international race to procure drugs and disposables to combat the disease which has increased the price of PPE, disinfectant alcohol, hydroalcoholic gel, masks and life-saving devices such as ventilators.
In late September 2020, the Ministry of Health in Gaza warned of the lack of laboratory reagents to run PCR Covid-19 tests – a perfect example of how overlapping international procurement struggles combine with the ongoing blockade to frustrate the healthcare response in Gaza. The delivery of items is often delayed, or even stopped at the borders for lengthy checks by Israeli authorities. Chronic shortages have imposed a culture of restraint and fear about using the very few items we have at hand. But patients in Gaza don't have the luxury of being able to wait four times more than any average sick person to receive treatment.
But certainly, there must be other problems in Gaza's health sector that weaken its COVID-19 response?
Absolutely. Beyond the actual materials needed to treat patients, any health system relies on solid infrastructure and a steady and reliable supply of basic resources such as electricity. But none of these are a given in Gaza. Years of Israeli military offensives on Gaza have damaged and destroyed health infrastructure, while the blockade complicates efforts to build new hospitals and clinics to cater for a growing population or even to rebuild those that are destroyed. Electricity cuts are commonplace, sometimes only allowing for six hours of electricity a day in recent months (August 2020). The wavering Israeli-controlled entry of fuel to feed Gaza's only power plant is behind these staggering electricity figures.
And then we have the human resources side of Gaza's healthcare crisis. We know too well that health workers around the world are under a lot of pressure these days. However, Gaza's medics show an unheard-of level of resilience. Israel's closure regime imposes heavy restrictions on the ability of Gaza's health workers to leave the Strip for professional development opportunities. MAP tries to counter through programmes that bring international experts to Gaza to provide training locally. Since the pandemic started, however, these visits have stalled. On top of that, due to the constant state of economic and political crisis in Palestine, many health workers work for long periods of time for less than 40-50% of their regular salary. These salaries are critical to sustaining not only the health worker and their family, but often extended families and friends. In Gaza, 80% of the population lives below the poverty line. This figure gives you a chilling glimpse of what it is like to live here.
Many health workers work for long periods of time for less than 40-50% of their regular salary
This hasn't stopped your work in preventing the spread of Covid-19 in the Strip. Why have you prioritised infection prevention and containment measures in this phase of the Covid-19 spread?
Gaza's blockaded population of almost 2 million people are crammed into around 360 km2, with an urban fabric of refugee camps – remember that nearly three quarters of people in Gaza are refugees prevented from returning to our families' homes and lands – and formal neighbourhoods. Often, extended families live under the same roof. Water and sanitation is hardly available and if you add high levels of poverty in the mix, you get the perfect conditions for the rapid spread of infectious diseases. Since the beginning of the pandemic, preventing community transmission has been our main focus. Before 24 August, quarantine centers for the few people that returned into the Strip were the focus of all efforts. Health authorities took strong, unparalleled measures imposing 21 days of quarantine instead of 14 or 10 for returnees, with two tests practiced while in isolation.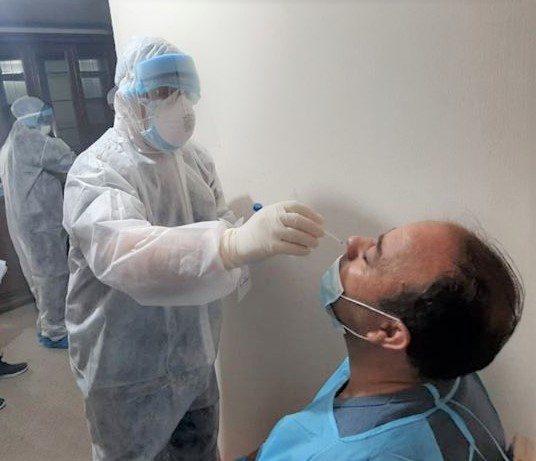 The discovery of community transmission – that is cases outside of quarantine – on 24 August was the tipping point that forced us to adapt our approach. Although prevention and slowing infection is still a key aspect of our work, since late August we have added a focus on case management. All in all, with all of the health sector's resource constraints, having more than 100 patients in intensive care units with complications derived from a Covid-19 infection would be a worst-case scenario for Gaza. For the time being, the saturation of the system is a possibility, although it is difficult to predict if or when it may happen. On 22 October, 1,934 active cases were being monitored, with some needing hospital treatment. In the last official recount of seven days between 11 and 17 October – 629 new cases of Covid-19 were reported.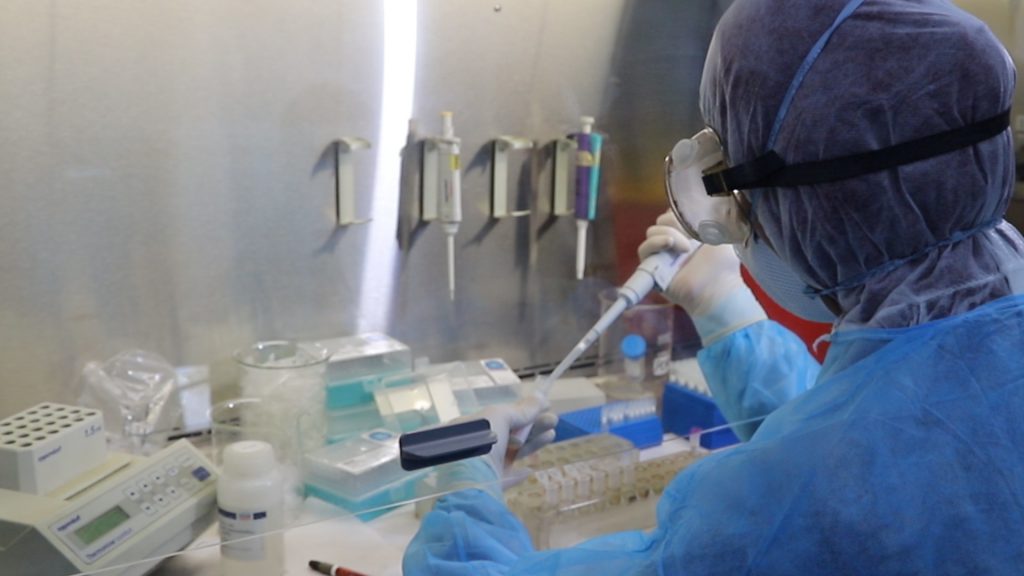 Gaza's immediate future never looked as bleak. The relentless blockade, the many problems derived from it and the spread of Covid-19 could have catastrophic consequences for Palestinians in Gaza. What needs to change now to keep the situation under control? 
It is more important than ever to make sure that the international community and international donors understand that the situation in Gaza is man-made, political and intentional. The collective punishment Palestinians in Gaza are subjected to by Israel's blockade; the Palestinian political rifts and the consequences for its citizens… all this must be urgently addressed. There is a certain, tangible and even logical fatigue among donors aiding Gaza: no matter how much money is poured in, nothing substantially improves – and will not – unless the blockade is lifted, and a master plan of recovery is implemented. Understandably, in the absence of political progress, aiding Gaza becomes less of a gleaming cause for donors to focus on. This fatigue is more dangerous than ever, given the current situation.
Living in Gaza with COVID-19
Other resources