Article 26 – Protection and support for child witnesses of violence

Article 60 – Gender-based asylum claims

Article 38 – Female Genital Mutilation

Article 8 – Financial Resources

Article 24 – Telephone helplines

Article 25 – Support for victims of sexual violence
The Istanbul Convention
A new tool for NGOs
scroll down
News
The Council of Europe's Group of Experts on Action against Violence against Women and Domestic Violence published its evaluation reports on Montenegro and Turkey

The reports contain an overall analysis of the implementation of the provisions of the Istanbul Convention. Read more here.

Morocco: Outcry after 'girl is raped, tattooed with swastikas'

Spain to introduce 'yes means yes' sexual consent law

Spain's socialist government is to introduce a law on consent aimed at removing ambiguity in rape cases. Read more here.

Abortion referendum in Ireland: Yes with an overwhelming majority

Ireland has voted to repeal the Eighth Amendment to the Constitution, which bans abortion, by an overwhelming majority.

Passing on nationality to children should be an Arab woman's right

Governments in countries such as Jordan, Lebanon, Iraq and Syria must eliminate discriminatory legislation that allows only fathers to pass on citizenship to their children.

Read more on Middle East Eye.

How #MeToo Became a Global Movement

Women in 85 different countries are using the hashtag to bring attention to the violence and harassment they face in daily life and to demand change.

Morocco passes new law to combat violence against women

Morocco's parliament ratified a law on Wednesday to combat violence against women after months of debate and discussion between political parties and civil society…

Read the full article on Al Arabiya.

The world's most dangerous megacities for women

In the first poll of its kind, the Thomson Reuters Foundation asked experts in women's issues which of the world's megacities are safe for women – and which need to do more to ensure women are not at risk of sexual violence and harassment and harmful cultural practices and have access to healthcare, finance and education. Read more.

Tunisia lifts ban on Muslim women marrying non-Muslims

President's initiative secures Tunisian women's right to choose spouse despite opposition from mainstream Muslim clerics.

Read the full article on Al Jazeera.

Video of Moroccan woman being sexually assaulted on bus by gang of teenage boys sparks outrage

Attackers laugh as they tear off victim's clothes and insult her in Arabic aboard public transport in Casablanca in clip shared widely across social media.

Read the full article on The Independant.

Jordan repeals law allowing rapists to avoid punishment if they marry their victims

'I feel like we're living in a historic moment… all these years of campaigning have paid off and will send a positive message to the rest of the region', rights activist says.

Read the full article on The Independant.

14-year-old girl joins dozens of Palestinian women in Israeli prison

8 Palestinian women and girls were arrested by Israel in May, the youngest was 14-year-old Malak Al-Ghalith who was held at a checkpoint on 28 May 2017.
Read the full article on Middle East Monitor.

Turkey systematically jails women as part of fear campaign, SCF report reveals

Thousands of women in Turkey, many with small children, have been jailed in an unprecedented crackdown and subjected to torture and ill-treatment in detention centers and prisons as part of the government's systematic campaign of intimidation and persecution of critics and opponents, a new report titled "Jailing Women In Turkey: Systematic Campaign of Persecution and Fear" released by the Stockholm Center for Freedom (SCF) has revealed.
Read the full article on Turkish Minute.

International Women's Day: Combating Violence Against Women in the Euro-Med Region

On International Women's Day 2017, EuroMed Rights wants to bring attention to the situation of violence against women in the North and South of the Mediterranean, by highlighting some alarming common trends as well as by informing about the different approaches in combating one of the most widespread and serious violations of women's rights in the Euro-Med region. Read through our informative factsheets on Cyprus, Egypt, France, Morocco, Tunisia & Turkey.

Turkey: Men Kill 29 Women in January

According to the reports Bianet compiled from local and national newspapers, news sites and agencies, men have killed 29 women; raped six; harassed six; sexually abused 27 girls; inflicted violence on 23 in January. Read more on Bianet.

Egypt: Women Human Rights Defenders Treated as Enemies

On the occasion of the sixth anniversary of the Egyptian revolution of 25 January 2011, EuroMed Rights launched the report "In Their Own Words – Features of the Struggle of Women Human Rights Defenders in Egypt", which highlights the immense obstacles faced by women human rights defenders (WHRDs) in Egypt since 2011. Read the full report here.

Tunisian Minister warns of alarming rates of violence against women, children

Tunisian Minister of Women, Family and Children Naziha Laabidi warned yesterday that violence against women and children in Tunisia has reached very alarming levels. Laabidi made her remarks during a hearing before the rapporteur of the Committee of Rights, Freedoms and External Relations in the Tunisian parliament. Read more on Middle East Monitor.

Victory in defeat: How the revolution changed perceptions of violence against women

Egypt's sexual harassment epidemic was never featured in melodic chants in Tahrir Square in 2011, and yet while the main demands of the revolution remain largely unmet, the fight against sexual violence has made great strides in the last six years in what can be seen as collateral benefits of the momentum and temporary expansion of public space associated with the revolution.

Turkey's ruling AKP proposes rapists be released from prison if married to victims

Turkey's ruling Justice and Development Party (AKP) has brought a bill to Parliament that proposes rapists in Turkish jails be released if they are married to their victims, as in the case of child marriage, a way out of prison for more than 4,000 inmates convicted of rape. Read the full article on Turkish minute.

Campaign launch event in Tunisia

On Friday 14 October, EuroMed Rights and its member and partner organisations launched their campaign on the Istanbul Convention through a public event in Tunis. On this occasion, the Tunisian athlete and Olympic champion, Habiba Ghribi, was present to launch the campaign as its Tunisian ambassador. A short video and a debate followed with representative of EuroMed Rights, the GREVIO and key Tunisia Civil Society organisations (AFTD, Beity, AFTURD).
The Istanbul Convention in brief
Violence is not fate, it is a cause and a consequence of historical inequalities between women and men.
We are in the 21st century and yet, whether in the private sphere or the public sphere we witness unacceptable acts of gender-based violence on a daily basis. However, a Convention by the Council of Europe specifically targeting violence against women and domestic violence was established on 11 May 2011: 'The Convention on preventing and combating violence against women and domestic violence.'
Legally binding for the countries that ratify it, the Istanbul Convention addresses all forms of violence against women, including domestic violence. It also offers practical insights on how citizens and NGOs can bring about real change.
Monitoring the implementation of the Convention
In order to assess and improve the implementation of the Convention by the States, two distinct bodies are interacting ; the Group of Experts on Action against Violence against Women and Domestic Violence (GREVIO) and the Committee of the Parties, which is composed of representatives of the Parties to the Istanbul Convention.
NGOs can turn to the GREVIO to address their reports, observations and alerts about serious, expanded or recurrent acts of violence, which should be covered by the Convention.
The four Pillars
Prevention

Treatment programs for perpetrators;
Involving media and private sector in eradicating gender stereotypes;
Teaching material for education programs

Protection

Emergency restraining orders for perpetrators;
Easy accessible and adequately distributed shelters and crisis centres;
24/7 telephone helplines

Prosecution

Clear definition and criminalisation of all forms of Violence against women;
Elimination of "honour" as a form of justification

Policy Integration

Joint action by different actors: NGOs, Parliaments,local authorities, police, etc.;
Appropriate financial and human resources for implementation
Read more about the Convention
What is going to change ?
Education
& training

Step up awareness-raising and improve skills of professionals working in the field

Shelters

Easy accessible and adequately distributed shelters and crisis centres

Helplines

Member States are obliged to ensure state-wide 24/7 telephone helplines available free of charge

NGOs

Greater political and financial support for their work. Key role in monitoring the implementation of the Convention by the States

Children

Extend the measures of the Convention to children, who can be severely affected, both as direct victims or as witnesses

Migrant Women

Victims of violence will be entitled of international protection: obligation to recognise gender-based violence against women as a form of persecution
Video: "Violence is not fate, it is made"
The Istanbul Convention by Country
The Istanbul Convention was open to signature on 11 May 2011. As of October 2016, it has been signed by 42 countries and ratified by 22; it is open for ratification also from non-members states of the Council of Europe (such as Tunisia, Morocco etc.).
Map of signatures and ratifications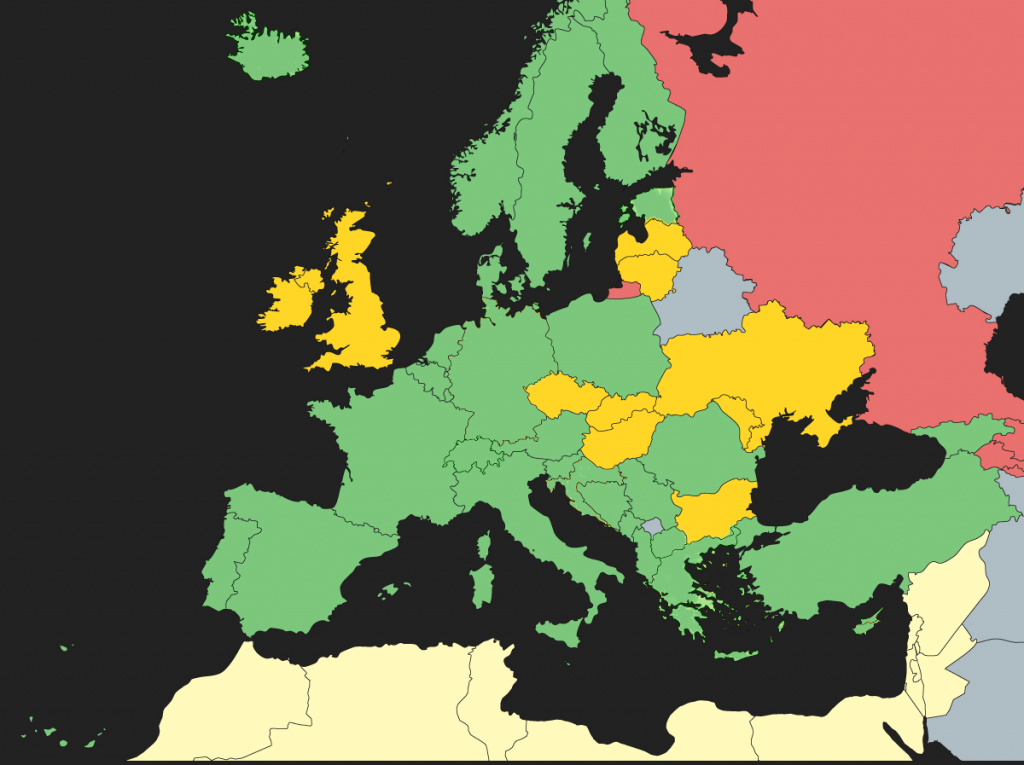 Our focus countries
What you can do on the ground
The 3919 is since 1 January 2014 the reference national phone number destined to women victims of all forms of violence (domestic, sexual, work-related, FGM, forced marriage, etc.). This free phone number was first installed by the French organisation FNSF (Fédération Nationale Solidarité Femmes) in 1992.